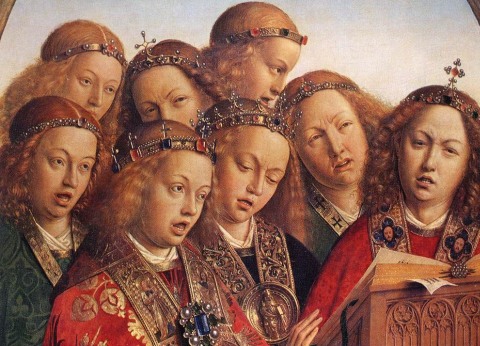 The painting is from the massive Ghent altarpiece, "The Adoration of the Lamb" by Hubert and Jan van Eyck at St. Bavo Cathedral, Ghent, Belgium.
Wiki
shows the entire altarpiece, except for the missing parts.
The well-known carol, "O come, O come, Emmanuel," provides just such a passageway linking the old and the new. The carol's familiar names for Christ are based on the Advent Antiphons—the "Great O's"—which date back possibly to the sixth century. These antiphons—short devotional texts chanted before and after a psalm or canticle—were sung before and after the Magnificat, the Song of Mary, at Vespers from December 16 through December 23. Each of the antiphons greets the Messiah and ends with a petition of hope. The simple refrain of the carol, "Rejoice! Rejoice! Emmanuel shall come to thee, O Israel!" sets the tone for this Advent time of waiting and expectation.
From
Hasten the Kingdom: Praying the O Antiphons of Advent by Mary Winifred, C.A
. (Liturgical Press, 1996).
Over the next several days, beginning tomorrow, I will post a video of the O Antiphon of the day sung by Dominican student brothers at Blackfriars in Oxford.
Note: Reposted from last year with slight editing. Rather than think of the reposts as due to laziness, please regard them as
Wounded Bird
traditions. Thank you.
O Come, O Come, Emmanuel (Advent carol) Performed by the Choir of Clare College, Cambridge Timothy Brown, conductor